The Night Market 2023
Welcome to

The Night Market

, where the moonlight guides you through a vibrant maze of dark artists & vendors ~ Hosted by My Pet Skeleton
WHEN:

AUGUST 11TH, 4PM - 10PM


WHERE:

44 GAUKEL STREET, KITCHENER, ONTARIO


FREE TICKETS:

 GRAB THEM HERE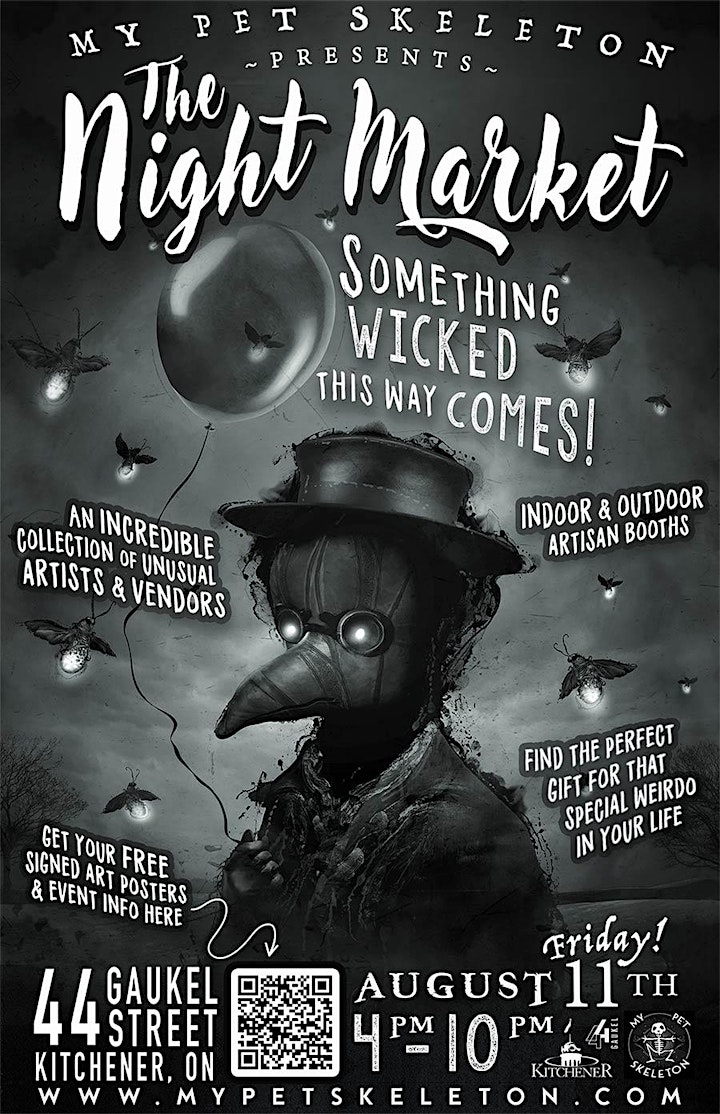 DESCRIPTION:
Discover the strange and extraordinary at the enigmatic NIGHT MARKET on 44 Gaukel Street in Kitchener, Ontario. Embraced by twinkling lights and moody soundscapes, a collection of peculiar artists and vendors will be showcasing their beautifully eccentric creations. From strange artworks to offbeat crafts and unconventional gifts, this market is a treasure trove for those seeking something truly one-of-a-kind. Don't miss the opportunity to embrace the unconventional and leave with a truly unique find.
The event is hosted by the award winning artist known as My Pet Skeleton, who will also be showcasing his works. Historically, this event started out as his open studio event... THIS YEAR, however, the City of Kitchener has encouraged the artist to invite 20+ other artists and vendors to be a part of something strange and truly special.
WARNING:

 THERE MAY BE SOME STRANGE, UNUSUAL & EXPLICIT IMAGERY.
DEAREST LOCALS... PLEASE HELP SPREAD THE WORD BY SHARING ANY OF THESE MATERIALS OR LINKS:
LINKS:

 CHOOSE ANY OF THESE LINKS TO SHARE

EVENTBRITE FREE TICKET PAGE: https://bit.ly/freenightmarkettickets

THE NIGHT MARKET LANDING PAGE: https://bit.ly/nightmarketkitchener
YOUTUBE MOTION POSTER: https://www.youtube.com/watch?v=a5EyrVuDzDE

INSTAGRAM: https://www.instagram.com/reel/CvFO4ZlA_3b/?utm_source=ig_web_copy_link&igshid=MzRlODBiNWFlZA==
FACEBOOK: https://fb.watch/l_kcozFyTZ/

TWITTER:  https://twitter.com/mypetskeleton/status/1682899045323341824?s=20


USE HASHTAG 


#KITCHENERNIGHTMARKET

DOWNLOAD GRAPHICS:

 MAKE YOUR OWN POST WITH ANY OF THESE GRAPHICS
[ RIGHT CLICK ON THE IMAGE & SAVE ]  SQUARE ~ IDEAL FOR INSTAGRAM, FACEBOOK & TWITTER POSTS

[ RIGHT CLICK ON THE IMAGE & SAVE ]  HORIZONTAL ~ IDEAL FOR WEB PAGES
[ RIGHT CLICK ON THE IMAGE & SAVE ]

  VERTICAL ~ IDEAL FOR INSTAGRAM STORIES & TIKTOK



DOWNLOAD ANIMATED POSTERS:

 MAKE YOUR OWN POSTS WITH ANY OF THESE MOVIES
RECTANGLE LOOPED MOTION POSTER = 46 MB
SQUARE LOOPED MOTION POSTER = 41 MB
STORIES VERTICAL LOOPED MOTION POSTER = 13 MB
FOR INSTAGRAM REELS LOOPED MOTION POSTER = 8 MB
THANK YOU FRIENDS!
SEE YOU ALL THERE!
--- ☽ ---